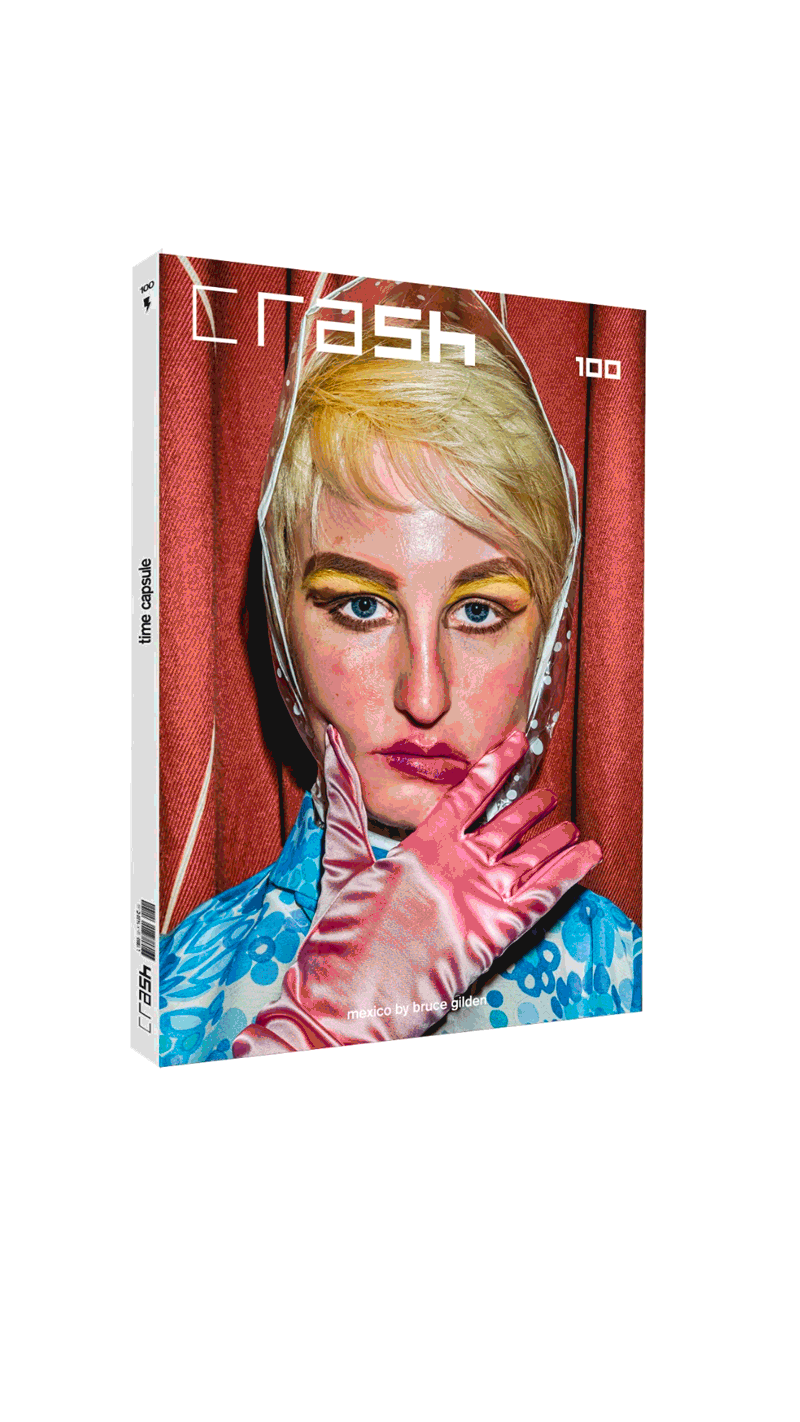 "Thirty-one years ago, in 1992,
Blocnotes
was born out of a need to create an art magazine that showcased the art that was hitting us in the guts: art that was committed, essen- tial, conceptual, sometimes even brutal, but always radical. In 1998, we decided to create
Crash
because, feeling like the art world was too narrow, we had been begin- ning to explore electronic music. The parties we organized were an attempt to break down boundaries and take the art world out of its ghetto. We felt like free electrons, championing non-careerist art- ists and personalities with no agenda other than to create a breach in reality.
With the benefit of hindsight and having reached the fateful figure of
Crash
n°100, we're tempted to look in the rear- view mirror and take stock. But as Karl Lagerfeld used to tell us, we mustn't look back, we must live in the present and "do", without asking questions...
Crash
, like a time capsule, fixes itself in the present, whilst always trying to reinvent with each issue, just as Rei Kawakubo wipes the slate clean and starts from scratch with each collection. Perhaps that's just what it means to be contemporary… " - Armelle Leturcq, 
Crash Magazine Editor in Chief
Discover exclusive interviews with with Julien d'Ys,
Andrea Viliani, Mauro grimaldi & Lutz Huelle, Vicky Krieps, Mia Khalifa by Linder and Deborah Roberts.
And mesmerizing fashion stories with legendary Magnum photographers Bruce Gilde, Alex Webb, Olivia Arthur and other amazing photographer Gorka Postigo, Marco Cella,
Arash Khaksari and others, immortalizing the worlds of Gucci, AZ Factory, Acne Studios, Dior and Chanel…
Crash Magazine is a French independent magazine published every trimester that can be found in all major press stores. It was founded in 1998 by Frank Perrin and Armelle Leturcq. They are both considered part of the new generation of French art critics that left a mark in the 1990s.
Crash arrived on the French market characterized with an element of the unexpected, filled with a deliberate desire to change things: characterized by a minimalist layout and design, it is constituted by challenging avant-garde visuals seeking to emphasize the beauty of things with innovative ideas. Crash worked in close relation with artists such as Air, Daft Punk, Michel Gondry during the emergence of the "French Touch". Since 2000 however, they have shifted their focus towards the "New Generation" such as Sofia Coppola, Phoenix and Super Discount.
Crash Magazine has been considered a platform for rising talent and new artists and its team is internationally recognized. This publication focuses on fashion and cinema amongst other things, fashion representing a cultural phenomenon of society and everything that is driven by it in our time. Crash has been recognized as the only French publication that dares to mix high-end fashion with urban culture, representing the image of a new generation of consumers that has recently emerged.
Crash publishes an English version sold internationally. The average reader (20–45 years old) sees Crash as a reference point that explores the fresh and upcoming trends, styles, culture and lifestyle.